Did you hear that?
That was the sound of my heart shattering into a million tiny pieces. It's just been confirmed that Rashida Jones and Rob Lowe will be leaving Parks and Recreation.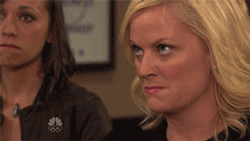 Don't ask me to comfort you, I have nothing left to give. I used all my cheering-up energy on myself, and so far nothing has worked. I'll be resorting to chocolate later. You can expect a chocolatey blog post in the near future.
Apparently Jones and Lowe will be in the first half of the new season, and then leave in episode 13. Somehow knowing exactly when it will happen is making it worse for me. I'm just going to be dreading that episode. Also, knowing they are leaving takes a little of the surprise out of their upcoming storylines.
Mike Schur, the producer of P&R, released this statement about the duo leaving:
"The news about Rob and Rashida is true — they will be leaving the show after the 13th episode of the upcoming season six. We've been working on their storyline (on and off) for four seasons now, and heading into this year, with the two of them contemplating parenthood, it felt like a natural time to move them into the next phase ... They are wonderful, funny, committed actors, they've been a huge part of the
Parks and Rec
family, and we think we have a great Pawnee send-off in the works for them."
WHATEVER MIKE SCHUR. Don't try and make me feel better when you're just going to break my heart all over again.
How can Ann leave? I mean, seriously. She's been on the show since the very beginning. How is Leslie going to cope with her leaving? With a lot of waffles, I imagine.
I get that it was an anomaly to have Rob Lowe, Mr. Big Time Movie Star, on the show for so long. But seeing Ann leave really feels like the beginning of the end of the series. Which is so sad when it is consistently one of the funniest shows on right now. This is literally the worst thing to happen to this show. Literally.
The big question here is, what will the actors do now that they've moved on to what I assume they think is greener pastures? Rob Lowe continues to do a surprisingly wide variety of work, not only in terms of medium but also in caliber. Remember that
Drew Peterson: Untouchable
Lifetime made-for-TV movie he did last year? I'll admit I didn't watch it, but if The Soup is any indication (definitely a reliable source), it was awful. Laughably awful.
And yet, at the same time he was starring on critical darling
Parks and Rec
. And then he went back and did ANOTHER Lifetime movie,
Prosecuting Casey Anthony
. He's currently working on the NatGeo made-for-TV special
Killing Kennedy
, release date TBD, which actually looks pretty good. And now he's leaving P&R.
What the heck is his plan? I'm still scratching my head over the multiple Lifetime movies. Whereas other Lifetime movies usually feature washed-up stars trying to claw their way back on top, Lowe doesn't really seem to fit that mold. Not only was he not washed-up going into these movies, his reputation seems unscathed by the terrible work. At the other end of the made-for-TV movie spectrum,
Killing Kennedy
is getting a lot of positive hype, and looks to be a very respectable production, if perhaps a little too full of itself. With his career going all over the map, we'll probably see Lowe popping up next as the host of a reality series, while simultaneously starring in Spielberg's next film.
I'll also be really intrigued to track the progress of Jones' career after this. She co-wrote and co-starred in last summer's movie
Celeste & Jesse Forever.
She also has a development deal with Warner Bros. Television with her writing partner, Will McCormack. But with the just-ok reception--both from critics and in box offices--of her debut film, I'm not sure the writing on the wall says, "You are hot hot hot right now, it's time to leave your biggest success to go do other stuff."
Maybe I'm just bitter one of my favorite shows is facing a precipitous change. But I suppose all we can do is hope that P&R carries on after the departure of two great regulars.
Now excuse me while I go mainline some chocolate.