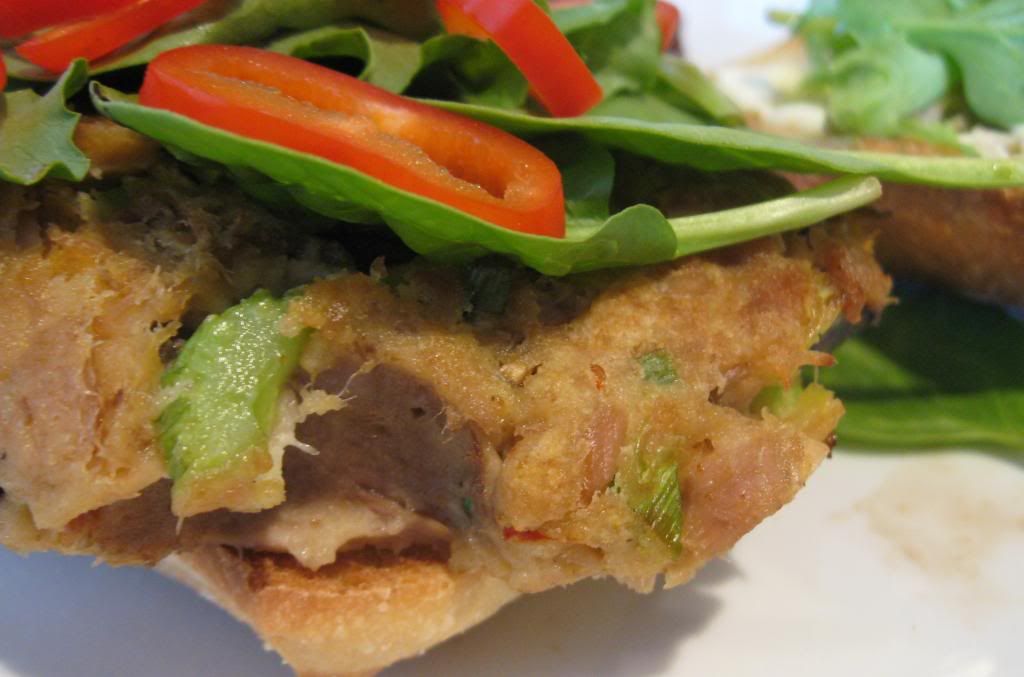 When I was little, my mom would make tuna burgers sometimes for dinner. She would mix up tuna, celery, and seasonings, bind it together with egg and breadcrumbs, and then fry the patties on the stove top (which is of course what made them so delicious). At the time, it felt like kind of a special treat, as it was something my mom would give my brother and me if we weren't having a family dinner. In hindsight, I realize it was the opposite: she was just throwing together things that were always on hand to make an easy meal for hungry children.
Whether or not it was a "special" dinner, it was definitely tasty. A dinner of Mom's tuna burgers is still a warm and fuzzy memory from my childhood. It was also something I thought was rather unique-- none of my friends had tuna burgers. Burgers was probably a misleading name, as there was no bun or toppings involved. But still, when was the last time you saw a tuna burger alternative on a menu?
Well imagine my surprise when I came across just that. A Thai Tuna Burger recipe that's a proper burger on a bun, but is made of a mixed patty like what my mom used to make.
This got my wheels spinning. I made a few changes to the recipe, and was pleased with how it turned out. The key to the "Thai" element of this dish is what you blend into the burger patties. In French cooking, there's something called a mirepoix that is used as a base for soups, sauces, or anything that starts with sauteed veggies. A traditional mirepoix consists of celery, onions, and carrots, but there are lots of regional variations. For example, in Creole (Cajun) cooking, they have what they call the holy trinity, which is celery, onions, and bell peppers. The Thai version of this is garlic, ginger, and green onion. Those ingredients are a common flavor base throughout Thai cuisine, so if you want to put a Thai twist on an average dish, a good place to start is adding those flavors.
Along with my Thai tuna burger, I had some chips on the side. I mention this because I'm not a big
chip person, but I picked up a bag of Terra Vegetable Chips: Thai Basil Curry at the store, and my life was forever changed. These chips are amerrrrrrrrrrrzing. Plus, it tells me on the front of the bag that there is a full serving of vegetables in every ounce. So, they're healthy, right? ....Right.....?
I was super pleased with how my new version of tuna burgers turned out. In the end, though, some things are never as good as how you remember your mom making them. Maybe I'll have to ask my mom to make me some tuna burgers the next time I'm home...
Thai Tuna Burgers
1/3 cup light mayo
2 teaspoons freshly grated ginger
4 oz diced mushrooms
1/4 cup diced celery, about two stalks
1/4 cup chopped green onions, about three onions
1 clove garlic, minced
2 5-oz cans tuna
2 eggs, beaten
1 cup plain bread crumbs
1 tablespoon fish sauce
1 teaspoon Asian chili sauce (e.g. Sriracha)
EVOO
4 ciabatta buns, halved and toasted
greens for topping
2 miniature sweet peppers, thinly sliced
Start by grating your ginger, and mix that into your mayo. Set aside. Dice your mushrooms into approximately 1/4 inch pieces. Place in a bowl with your diced celery, green onions, minced garlic, and drained tuna. Toss this with a fork just to break up any big tuna chunks. Add 2 tablespoons of your ginger-mayo, your beaten eggs, fish sauce, chili sauce, and bread crumbs. Either combine with a fork or with your hands. If the mixture seems too wet, add a palm full more of breadcrumbs.
Put a skillet on over medium heat with about 2-3 Tb of EVOO. While the pan heats, section your tuna mixture into six equals sections. Each of these portions will be a burger. Once the oil is shimmering but not smokey, add three patties to the pan. Burgers are done when they are brown on both sides and hot in the middle, about 4-5 minutes per side. Remove your first batch and set aside on a plate lined with a paper towl while you cook the second batch.
A note on cooking things in a frying pan-- after you have placed your item down in the pan, step away and put the spatula down. Don't touch it. Don't nudge it. Don't try to adjust it or check its progress every thirty seconds. The food will tell you when it's time to turn because it will release on its own. After about 4 minutes, you can lift one of these patties and see if it's done enough. It should be set enough by that time to allow you to lift it with a spatula. If you want it darker, let it cook another minute or so before you flip them.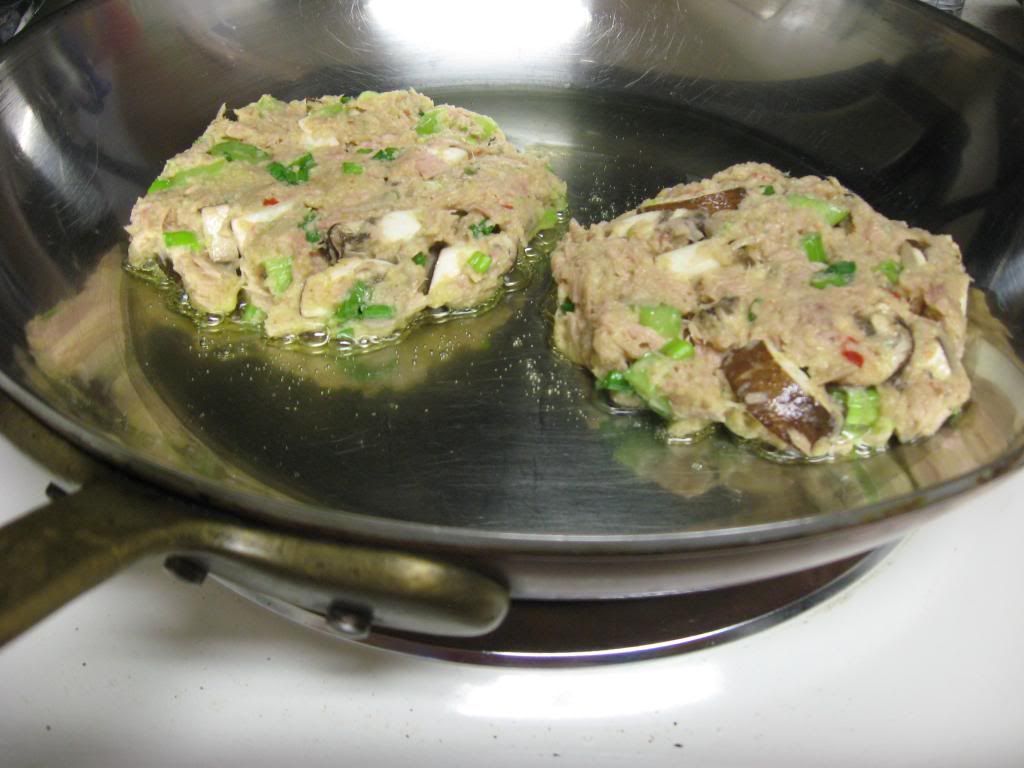 While your second batch of burgers finishes, toast up your buns under the broiler. Slather with the rest of the mayo, top with burger, greens, and pepper slice rings. And of course, if you have them on hand, serves with some vegetable chips and a hard cider. Easy, delicious, and pocket-friendly. Hope you enjoy!